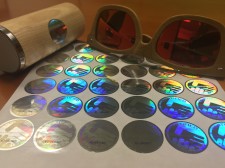 New technology company launches Kickstarter campaign for its unique way of returning valuable devices and personal items to the rightful owners
Irvine, CA, July 19, 2016 (Newswire.com) - ​​​​Losing a device can ignite panic, sending chills up your spine. But a new Irvine-based digital company, Karma Clutch hopes to change that using the power of Karma and the first "Return & Reward" system.
To kick-off awareness for the Kickstarter campaign, today Karma Clutch has released a video depicting the various reasons for having Karma Clutch protection on your devices and valuable personal items. Karma Clutch provides a digital protection system which offers pre-set rewards to people who find and return lost items. The rewards are set by the owner upon registration and could range from cash rewards, product incentives, and most importantly, good Karma itself.
"This gives anyone who finds a lost item the chance to push positive karma into their lives and brighten up someone else's day."

Brian Eaton, Creative Director
"Karma Clutch is creating a movement towards a meaningful cause that raises thoughtful awareness of doing the right thing," said Brian Eaton, creative director for Karma Clutch. Eaton also said the campaign's primary purpose is to raise awareness, but he hopes it also raises $50,000 to help finalize manufacturing and development.
Some reports estimate 70 percent of people have lost a device, averaging 1.24 items a year. This comes with an average cost of $220.15 per lost item, not to mention the sentimental value, lost time, contacts, photos and identification amid many other costly inconveniences. Another research study estimates 12,000 laptops are lost weekly in US airports and 120,000 phones are left in taxicabs in Chicago alone. It is also reported that only 5% of items are actually returned to their respective owners.
Karma Clutch will be offering exclusive retail products with embedded protection in addition to special holograms and tags with unique identification codes that will be stored in the database upon registration. These tags adhere and/or attach to personal items.
This virtual security alerts owners of Karma Clutch protection once a lost item has been found via text, email and mobile app push notifications. Then, the "Return & Reward" system helps connect the lost item with its rightful owner.
"Karma Clutch protects items that are most valuable to us, like phones, tablets, keys, wallets, IDs, purses, bags, sunglasses…almost anything that we misplace accidentally, Eaton said. "This gives anyone who finds a lost item the chance to push positive karma into their lives and brighten up someone else's day."
To learn more about this Kickstarter project and how you can support Karma Clutch's campaign, please visit: http://www.KarmaClutch.com
Karma Clutch
2151 Michelson Dr.
Suite 136B, Irvine, CA 92612
United States
Source: Karma Clutch
Share: